ThisIs.CrackerSoul.Org -- About This Site
---
This is a fan site only and is no longer kept up-to-date with the most recent Cracker information. Unfortunately, the webmistress doesn't have the time needed to keep the site current now that she has moved on from college and joined the rat race. Also, the is not as great of a need for this site now that Cracker and Camper Van Beethoven have excellent official web sites that are up-to-the-second current with tour info, photos, reviews, and mp3 releases. I still love Cracker and related bands, but I'm leaving the online reporting up to the official sites now. I do hope to add photos and reviews on occasion, but not with the frequency I once did. Please enjoy the site for what it is and keep up your suppport of all things Cracker!
Thanks
Jess and John would like to thank ...
David, Johnny, Bob, Kenny, Frank, Brandy, Willis, Jeff, Woody, Victor, Jonathan, Greg, Rob (for starting C2K), everyone who sent in pictures or reviews, cigarettes and Mt Dew, Ben & Jerry's and Dr Pepper, various pizza places around Reston and Richmond, C2K, Tony's Tape Factory, and O'Reily books.
Original site design based on Jess' geocities page.
Additional site design by Jess (and John some)
various web tricks and hosting by John
---
Jess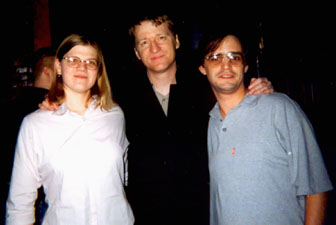 John