About Cracker
---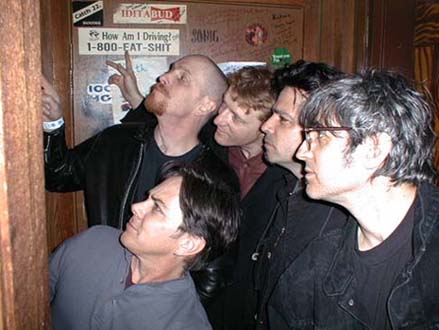 Looking to learn more about Cracker?
Now for a brief history of the band, loosely based upon their major releases...
---

Cracker rose from the ashes of the breakup of the California-based Camper Van Beethoven. CVB's front-man, David Lowery, got in touch with his friend, Johnny Hickman, and they formed what still is the "yolk" of the Cracker egg, so to speak...




Their first album (it's self titled, and lovingly referred to as Cracker Brand by the fans) yielded a popular song in "Teen Angst (What the World Needs Now)." Also on this CD are fan favorites like "Dr. Bernice", "Mr. Wrong", and of course this site's favorite "This Is Cracker Soul."




Cracker's second album, Kerosene Hat, is the one that really put Cracker on the "alt-rock" map with their ultra-popular hit single "Low" (or as some frat boy type fans call it, "that song about being stoned" or "that video with some guy boxing Sandra Bernhard"). Also popular from Kerosene Hat were the song "Get Off This" and the hidden track "Eurotrash Girl." Fan favorites from this album include "Lonesome Johnny Blues," "Movie Star," "I Ride My Bike" (hang on to something when they play this live), and "Hi- Desert Biker Meth Lab." (see, I told you it wasn't objective) = )




For their third album, Cracker chose to go all out with the amazingly diverse and absolutely beautiful (see I told you this site was biased) The Golden Age. This album went from roaring grunge rock to straight ahead pure rock-and-roll to grandiose orchestral rock, with a pinch of country thrown in for good measure, and it did all that without batting an eye. Though The Golden Age yielded no "Low" scale hits, it did have some popular tracks in "I Hate My Generation," "Nothing to Believe In," (guest backing vocals by Joan Osborne) and "Sweet Thistle Pie." It also includes fan favorites "Big Dipper," "Useless Stuff," and another one to watch your footing on - "100 Flower Power Maximum."




Cracker's next release, Gentleman's Blues, is another excellent (no one's pretending this is objective) piece of work, running the gamut of musical styles, though not to the extreme of The Golden Age. Johnny Hickman gets to take a couple of turns singing lead on a few of the tracks and the hidden track, "Cinderella," features the amazing lead vocals of LP. Some songs that made it to the radio include "The Good Life," "Seven Days," "Star," and long time fan favorite "I Want Out of the Circus".





After Gentleman's Blues, Cracker released a compilation album called Garage D'Or which collects a number of the band's radio hits and fan favorites, as well as a few new gems. A live CD also accompanied the compilation. This album was released around the time when the record industry began eliminating many of the smaller bands so that they could make more room for huge money making pop fluff creations (gee thanks Ms. Spears) and Cracker's days at Virgin were over.




Next came Forever, which contains some excellent songs like the bizarre love/stalker song "Guarded by Monkeys", the emotionally powerful guitar driven "One Fine Day" and beautifully hypnotic "Brides of Neptune". Fans were in the unique position of being able to follow along with the creation of this album thanks to the multiple secret mp3 demo releases (thanks to the good doctors) during the course of the album's production. More demos were released than made it to the album, which makes many fans wonder if some of the songs might one day make their way onto a new Cracker album.




Cracker's most recent album Countrysides grew out of the band's alter ego Ironic Mullet and became the alt-alt-country album. In other words, Cracker doing faithful covers of old school country songs, while injecting their Cracker Soul to make it all very much their own. Again, the fans were privy to IM shows and to demo releases and this fan was a little disappointed that a very wasted "Tonight the Bottle Let Me Down" didn't make it to the final cut, but in all I think this album totally kicks ass and it's wicked fun to hear them play these songs live, especially sprinkled in with the Cracker originals.


Cracker has given us over a decade of great music and promises more to come. The band is officially based in Richmond, VA and they tour regularly all over the US and in Europe. They never fail to be absolutely amazing live. Certainly anyone who enjoys their music should go out and see them play at least once. But really, more than once is required for any true fan. Also, at least one of your Cracker shows needs to be a club show, because it's a whole different vibe than a festival type show. And, if you ever get the opportunity to see a Cracker/Camper double header, jump at it because you will be absolutely amazed. Another great thing to see is a Cracker show with LP who totally rocks -on her own solo stuff and with Cracker. Well, really, you just have to see them live whenever they are playing nearby. No matter what. =)
---
Though the lineup of Cracker rotates fairly frequently, here is how it stands currently...
David Lowery - lead vocals, rhythm guitar, tambourine
David has a web page here.

Johnny Hickman - lead guitar, backing vocals (some lead vocals)
Johnny has a web page here.

Victor Krummenacher - bass guitar, backing vocals

Frank Funaro - drums and all the trappings, rakish charm
Frank has a web site here.

Kenny Margolis - keys, accordion (bitchin' kick-ass accordion, that is) tambourine, cow bell, and that shaky thing
Kenny has a web site here.